I deal in, buy and sell antique & collectible Office, Scientific, and Technology related antiques that date from near the turn of the 20th century or earlier. This includes office related tools such as early patented antique pencil sharpeners, antique typewriters,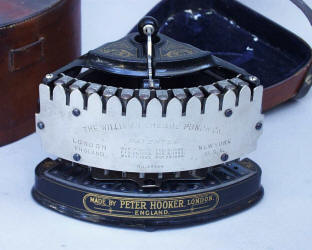 calculators and many early electrical devices We also deal in such things as vintage slide rules, early punch style check protectors, antique fans and other early office related collectibles. I can help you sell yours as well. Contact me if that is what you are looking to do.

When I first started looking for technological and office antiques some 30 years ago many were considered to be just heavy weights. They would be found hidden in the corner of antique mall booths or under the table at antique shows. Jokes abounded about anchors, ropes, dumpsters and such.

Those days are over and the word has spread. Thing is, today everyone wants to sell their 1940's - 1960's era obsolete office stuff for big bucks because of the stories they have heard, or TV shows they have seen. They just know that their "old" and "antique" 1950's typewriter or adding machine is valuable. Age, rarity, or condition are hardly considered. While that logic might hold true for first generation computers and electronic calculators, for the most part office equipment from the 20's through the 60's is not in demand, desirable or worth much at all.

The bad news is that the anchor analogies, along with the rope and heavy weight jokes still pertain to many of these later pieces. The 1930's or later used typewriters or electric calculators, that have been sitting in the garage or in storage the last 40 years, time has not yet come. The market may change over time for this later, readily available, and more common stuff, but I will not be around to see it, and you probably will not be either.

On the other hand, the supply of good early (pre 1900) scientific related antiques, that was once available and reasonably priced, has now for all intent and purposes disappeared from the scene and the supply has about dried up. It is that era stuff that I am looking for today, and can help you sell.
If you have a single antique or an entire collection of office and technology related antiques for sale that you think we may be interested in, please contact us at LCM@patented-antiques.com and we will get back to you ASAP. Thanks!!

Individual titles below that are highlighted in yellow are Select New Additions or Special Gift Ideas. Be sure to take a look!!
Click any of the BLUE HEADINGS below for the description, price and a couple pictures
Antique & Vintage Calculators
Key / Drum / Pinwheel / Sliders / Dials etc.

* * * Click Heading to see Items * * *
* * * Click Heading to see Items * * *

K & E / Keuffel & Esser Slide Rules
* * * Click Heading to see Items * * *

Stick Type Slide Rules by Other Makers
Page 1 (Misc) Page 2 (Pickett) Page 3 (Hemi / Bamboo)
* * * Click Page Titles Above to see Items * * *

* * * * We Sell Antiques! * * * *
We want to Help you Sell Your quality Antiques
If you have a single antique, or a collection of antiques to sell please contact us at LCM@patented-antiques.com giving us your PHONE NUMBER and other contact info and we will get back to you ASAP.

To view examples of the types of antiques and collectibles we have previously sold and are always interested in helping you sell please visit our Past Sales Archive Pages at our sister website www.AntiqBuyer.com.

Please see our FAQ page, the Appraisal / Selling Page and the Selling Your Collection Pages for further info.
Thanks!!
Larry & Carole