If you have a single antique or an entire collection of office and technology related antiques for sale that you think we may be interested in, please contact us at LCM@patented-antiques.com and we will get back to you ASAP. Thanks!!
Individual titles below that are highlighted in yellow are Select New Additions or Special Gift Ideas. Be sure to take a look!!
Click any of the BLUE HEADINGS below for the description, price and a couple pictures
Antique
Medical Equipment & Devices
* * * Click Heading to see Items * * *

Typewriters are a another popular collectible in the Office Antique category, and again the more interesting and earlier models are becoming ever more difficult to find. To see a small sample of machines I have previously sold in the past and to get an idea of the types I am looking for please look at our Past Sales Archive at our sister site www.AntiqBuyer.com. .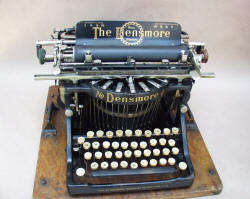 Now is the time to buy antique typewriters as their perceived values have done much the same as the NASDAQ in the recent past, with wild swings up and deep declines down after a few hungry, and money is no object, style buyers entered the market and were filled up. But as with the stock market I think we have seen the bottom, and when the business collectors of antique office memorabilia get their priorities and portfolios back on track, this sort of antique office collectible is again going to sell at a whole new level of price, to a whole new crop of interested buyers and the cycle will begin again.

All the different styles and examples are a great example of a technology that went through some wild changes and stages of development to the keyboards hooked to a computer we have today. Personally I can not imagine using a typewriter and not having spell check.
Vintage & Antique
Typewriters / Staplers / Office Accessories
& More
* * * Click Heading to see Items * * *

Multiplex Folding Typewriter
Corona Folding Typewriter
Smith Premier #1 Typewriter w/ Cover
Vintage & Antique
Check Protectors / Staplers / Office Accessories
* * * Click Heading to see Items * * *

Bump Stapleless Paper Fastener - - - - Cut / Fold / Tuck
"NC / Neva Clog" Stapler
Red & Black Hotchkiss Moderne Stapler
"Novelty" Patented Stapler
Abbott Automatic Patented Check Protector
Wesley Check Protector
2 NOS Envelope Sealers
Patented & Mechanical
Antique Pencil Sharpeners
* * * Click Heading to see Items * * *
Antique mechanical Pencil Sharpeners or pointers that I am interested in, buy, sell, and can help you sell on consignment from this page saw their heyday of innovative design and production during the period from about 1870 to 1910 or a bit later. There are a myriad of patented designs and variations on designs available and they can make for an interesting and challenging category to collect. Their availability and prices have ebbed and flowed with the the internet and the economy.

Our inventory had been pretty much depleted until now the summer of 2012. We are now selling pencil sharpeners from two different nice collections for 2 different owners. They each contaned some very rare examples. We are still buying more unusual and interesting examples or can help you sell yours from this page. There are many, many, different versions available and you can see a pretty good selection of what I have sold in the past by visiting this pencil sharpener sales archive page at our sister website In general we are seeking any of those seen on this page or those on the preceding page. We are even more interested in other early odd-ball mechanical and patented ones that are not shown.
SPECIAL NOTE: We do not deal in later small diecast figural pencil sharpeners. EVER!!
Patented & Mechanical Antique Pencil Sharpeners
* * * Click Heading to see Items * * *
Louis Meyer Vertical Pencil Sharpener
Patented Handy Pencil Sharpener

Rare & Unusual Patented 1886 Wood Frame Pencil Sharpener

Cast Iron Mushroom Base Roneo Pencil Sharpener
Victor Pencil Sharpener

"L. E. B. Draw-Cut" Pencil Sharpener

Nickel Plated "Handy" Pencil Sharpener
Goodell Perfect Pointer Pencil Sharpener
Jumbo" Pencil Sharpener by the Automatic Pencil Sharpener Co.
3 Different Guhl & Harbeck Jupiter Pencil Sharpeners
Nice US Automatic Pencil Sharpener in Original Box
Avanti Pencil Sharpener
New Era Pencil Sharpener
Wizard Pencil Sharpener
Roneo Pencil Sharpener
Novelty Type Wooden Telephone Pencil Sharpener
Early Electric Appliances
Fans / Motors & Steam Engines
Antique electric fans offer a glimpse into the quality and pride that went into the manufacture of products in this country during an earlier period in America's history. I still use a an early GE Pancake fan and a Westinghouse "Tank" fan, as well
as an early electric Emerson fan around the house. The way they work and look is a tribute to an earlier time. A sense of pride was built into American made products and these 75-100 year old fans are a great example of the way things use to be. It is no wonder these early testaments to quality and design stir collecting interest, or that they elicit positive comments from all who see them. Their operation and their their look have an air of quality about them not seen in today's products.

Early fans came in all sizes and shapes. Some examples of antique fans I have sold in recent years can be found on this fan sales archive page at our sister website. In addition to electrically powered AC, DC, or battery powered fans, there are hot air fans, water powered fans and more.. I deal in, and sell all of these different early versions of vintage fans.

Most small or toy vintage electric motors resemble early larger antique steam and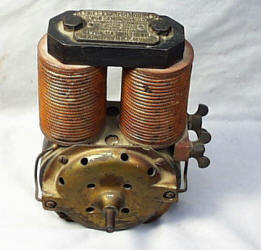 electric motors from the same time period or era and are open framed and or bi-polar in design. Many of the electric motors that came with erector sets or with toy steam engines like Weeden and Bing are similar looking but there are earlier and more elaborate models that were used as demonstrators in classes or labs as well. Others were sold in Novelty catalogs as working motors for small jobs. In addition to electric motors there are also hot air models known as "flame lickers", and the steam driven motors / generators meant to be set up with boilers by such makers as Bing, Jensen, Plank and others.

Names like Edison, Westinghouse, Tesla and a few others come to mind when considering the introduction of electrical technology into our society. These inventors and others were the driving force that led America into a new age of power and their early efforts and designs are both important and an interesting facet of our history and a reminder of what it used to be like.

Antique & Early Electric
Fans / Motors Etc, by Edison / GE / Westinghouse Electric
and Others
* * * Click Heading to see Items * * *
Thomas A. Edison 1882 type "Z" # 295 "Mary Ann" Electric Dynamo / Generator / Motor

SOLD!

Western Electric 12" "Tank" Fan w/ Brass Blades & Cage
Westinghouse 12" "Tank" Fan w/ Brass Vane Oscillator

Edison Battery Powered Electric Pen

SOLD!



Early GE / General Electric 3 Blub Heater
Gamewell Telegraph Fire Alarm Co. Fire Alarm Bell
Large Twin Coil Electro Magnet / Early Laboratory Device

Edison Battery Powered Electric Fan / Motor

SOLD!



Early Radios / Electric Appliances
& Misc Antique Electric Devices
* * * Click Heading to see Items * * *
Powerstat "Variac" Variable Voltage Machine
Hamilton Beach So-Ez Electric Sewing Machine Motor w/ Rheostat
Atwater Kent Breadboard Radio
Early Electrical Ozone Generator w/ Fan
Kennedy Coronet #42 Table Top Tube Radio
Atwater / Kent F-2 Siren Speaker

* * * * We Sell Antiques! * * * *
We want to Help you Sell Your quality Antiques
If you have a single antique, or a collection of antiques to sell please contact us at LCM@patented-antiques.com giving us your PHONE NUMBER and other contact info and we will get back to you ASAP.

To view examples of the types of antiques and collectibles we have previously sold and are always interested in helping you sell please visit our Past Sales Archive Pages at our sister website www.AntiqBuyer.com.

Please see our FAQ page, the Appraisal / Selling Page and the Selling Your Collection Pages for further info.
Thanks!!
Larry & Carole