Early, rare and desirable antique sewing machines that we are currently offering for sale are the main focus of this Antique Sewing Machine page. We try to always have a good selection of both full size early and unusual patented sewing machines as well as various harder to find early TSM's or Toy Sewing Machines.

We always have a good selection of Singer Featherweight Model 221 Sewing Machines listed for sale on their own page. Simply click the link. These wonderful machines are the machine of choice for, and a favorite with today's quilters and crafters.

The invention of the sewing machine in the mid-19th century played an important role in the Industrial Revolution and Americas growth. There has been ongoing debate about which inventor should be recognized as the "father of the sewing machine". This confusion stems in part from the simple fact that the idea of a "sewing machine" seems to have occurred almost simultaneously to inventors all over the world, or the concept had been stewing in folks' minds for years.

Elias Howe Jr. is one of the most commonly heard names associated with the invention and patents for early sewing machines. He was granted some of the earliest patents but died penniless and endured the humiliation of seeing others profit from his ideas. Isaac Merrit Singer was a brilliant salesman as well as inventor, and he saw financial success because he was simply a shrewder businessman than
most of his other sewing machine inventor counterparts.

Other names tied to sewing machine development, patents for sewing machines, and their invention include Allen Benjamin Wilson, Thomas Saint, Newton Wilson, and Barthelemy Thimonnier. Information on these early inventors and many others can be found in the references on he subject by Carter Bey whose book is in the 4th printing now, or in the real reference on early sewing machines by Grace Cooper that the Smithsonian sponsored.

So, in the end, while there is debate about who should be given credit for designing the first mechanized means of stitching together two pieces of fabric, there is no debate that these early antique sewing machines revolutionized daily household life in America and the rest of the world.
During the late 1800's and early 1900's young girls were expected to learn to sew at an early age, and small portable
hand crank sewing machines that could be used by youngsters were also widely marketed toward adults to use at home for mending as well as while traveling or vacationing. Many just did a simple chain stitch, if you could get it to work, and were of dubious worth as real sewing machines. But that did not keep the manufacturers from touting their usefulness in search of widening the market. Machines by Smith & Egge with names like Peerless, Little Comfort, Midget, and others fall into this type.

The Stitchwell TSM / Toy Sewing Machine by the National Sewing Machine Co. in Belvedere, IL is a well known and well made American TSM that dates from the 20's. It is cast iron and a nice looking as well as nicely designed machine. It pretty much marks the end of an era, and after this most cast iron toy sewing machines disappeared as manufacturers turned to less expensive materials like sheet steel, and then later
plastic.

Next came the later "tinny" type machines. Here is where you will find colorful chain-stitch children's and toy sewing machines dating from the first part of the 20th century thru the 1950's or so that we are currently offering for sale.
Antique & Collectible
Singer Toy Sewing Machines
* * * Click Heading to see Items * * *
These interesting and highly detailed vintage Singer toy sewing machines are often mistakenly identified as salesman samples. The truth is that they were made and marketed as toys. Singer realized the importance of marketing their products and their name to young girls and made their first version, what has come to be referred to as the 4-spoke, in the early 1900's.


Many full-size Singer sewing machines were undoubtedly sold to young ladies who fondly remembered the toy sewing machine that years earlier they had first learned to sew on. Singer continued the tradition of promoting the company in this way right up to their last model, which they had made for them in Turkey in the 1980's.

Most all of the earlier Singer toy sewing machines are considered highly collectible today and are the most popular machine that we sell. They were so popular in their day that other toy sewing machine makers decided to get a piece of the action by copying the Singer design, and a host of what have come to be known among collectors as "look-alikes" were produced by assorted American and foreign manufacturers over the years. For collectors that means there are many exciting variations to be found, and one could assemble an outstanding collection of only Singers and the look-alikes just by focusing on all of the different models, colors and variations in their cases and boxes.

We also always carry a good selection of Singer Featherweight Model 221 Sewing Machines which are a favorite with today's quilters and crafters, and they are listed on a separate page.
Black Singer Model 20 TSM Toy Sewing Machine
Tan Singer Model 20-10 Toy Sewing Machine in Blue Carry Case
Singer Model 20 Electric TSM / Toy Sewing Machine
Singer Model 20-10 Toy Sewing Machine with Mannequin in Original Case
Child Size Toy Treadle
Sewing Machines

* * * Click Heading to see Items * * *
Toy treadle sewing machines are the most desirable and oftentimes hardest to find of all TSM's. Below are a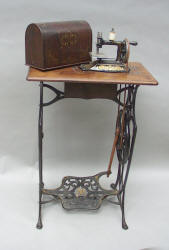 few that are out of a collection we are selling for the widower of a collector who had a keen eye and the taste and means to buy the best when she was offered it. These unusual machines are seldom seen except in collections these days, and over the years we have found just a couple in all of our hunting.
There are probably about a dozen different makes or models of these rare machines available. Most are American but the German maker Muller also made a couple of different models. Most are quite well-made and have elaborate cast iron stands just like, or even more decorative than, most that are seen on full size machines.
ALL SOLD!
Patented Daisy Toy Treadle Sewing Machine / TSM

SOLD!

"Busy Bee" / Stitchwell Toy Treadle by National Sewing Machine Co. on Mission Style Base

SOLD!

F & W Automatic Toy Treadle on Mission Style Wood Stand

SOLD!

Muller #18 Toy Treadle Sewing Machine w/ Cast Iron Stand and Decorated Hood

SOLD!

Slightly Smaller Muller #16 Toy Treadle Sewing Machine w/ Cast Iron Stand and Decorated Hood

SOLD!
Antique Sewing Accessories
Sewing Birds / Clamps / Thimbles / Notions
& Other Sewing Accessories
BACKGROUND
Most of the antique sewing birds / sewing clamps and other sewing accessories listed below originate from several long time collections of sewing-related antiques that we are helping the consignors sell after years of assembling and enjoying their collections.

If you have a collection of similar pieces or even one great example of a sewing bird or clamp that you would like to have included for sale on this page, please Contact us

Antique sewing birds / sewing clamps have a special appeal and make for a great collectible. There is no definitive record of when the first examples were
produced but the idea of needing a "third hand" is as old as hand sewing and mending itself. The first sewing clamps were created to fill a utilitarian need to make the seamstress' task a bit easier. Later the idea and designs of the clamps evolved beyond the purely utilitarian and sewing clamps were given as gifts and designed to be decorative pieces of art as well as fill a need.

There is a near endless variety of different forms and styles of antique and vintage sewing clamps, and no one collection could ever have them all. Sewing clamps can be figural, very complex, and decorative, or utilitarian, very plain, and simple. One example can encompass all manner of forms in between as well. Many highly ornate and highly decorated examples were given as tokens of love and admiration to the object of affection. I have read that the advent of and introduction of the sewing machine was the end of these, but that is not quite true. There was still a need, and a desire, and many fine examples were produced in the Victorian era and later.

Figural examples of antique sewing clamps are probably the most sought after and rarest, but different collectors or collections can focus on any type or design. Some sewing clamps have storage drawers to hold thread, needles or other small sewing accessories. Some have secret compartments, or hold pictures. Others have thread winders or spool or thimble holders. Unusual examples of sewing clamps can have multiple spool pins or winders. Pin cushions are a common feature and acted as both a means to hold the material, or just to hold the pins and needles. Still others have thread cutters, emery's, or scissor sharpeners incorporated into the design. The list goes on and on.
If you have a collection of similar pieces or even one great example of a sewing bird or clamp that you would like to have included for sale on this page, please Contact us.
Antique & Vintage
Sewing Birds / Sewing Clamps
w/ Pincushions, Winders & Hooks etc.
* * * Click Heading to see Items * * *
Antique Bone / Ivory Decorated Sewing Clamp with 2 Thread Winding Spools & Pincushion
Stylized Antique Steel Sewing Clamp Pincushion
1853 Waterman Patent Antique Sewing Bird REAL!!
Antique "Full Body Robin" Sewing Bird
Primitive Steel Figural Sewing Clamp with Pin Cushion
Stylized Antique Brass Sewing Bird with Pincushion and 2 Spool Pins
Early Blacksmith Made Figural Sewing Clamp with Double Pincushion
* * * Click Heading to see Items * * *
Antique Folding Handle Sterling Silver Scissors
Antique Figural Handle Swan Scissors
Antique Figural Handle "Lady Legs" Scissors
Combination Scissors and Cigar Cutter with Advertising
Several Different Pairs of Fancy Handle Antique Sewing Scissors
Keen Kutter / Simmons Hardware Scissors
Several Different Antique Buttonhole Scissors
An Assortment of Gingher Scissors and Shears
Books about
Antique Sewing and Needlework Tools
* * * Click Heading to see Items * * *
History of Needlework Tools and Accessories
Sewing Tools and Trinkets
Needlework Tools
Antique American Sewing Machines
Collector's Guide to Toy Sewing Machines
Toy and Miniature Sewing Machines
F.W. Muller's Toy Sewing Machines
Thimbles and Sewing Implements
The Standard Book of Quilt Making and Collecting
Encyclopedia of Needlework
Old Sewing Machines
Homespun and Blue
The Hooked Rug
Country Rugs
The Warner Collector's Guide to American Quilts

Please Note: We do not buy or sell all sewing machines. We can help you sell certain antique and collectible sewing machines. For info on later Sewing Machines that we do not buy or deal in, and their values please see this PAGE.


* * * * We Sell Antiques! * * * *
We want to Help you Sell Your quality Antiques
If you have a single antique, or a collection of antiques to sell please contact us at LCM@patented-antiques.com giving us your PHONE NUMBER and other contact info and we will get back to you ASAP.
To view examples of the types of antiques and collectibles we have previously sold and are always interested in helping you sell please visit our Past Sales Archive Pages at our sister website www.AntiqBuyer.com. .
Please see our FAQ page, the Appraisal / Selling Page and the Selling Your Collection Pages for further info.