Antique & Vintage
Surveying Instruments
Antique surveying instruments, including transits, theodilites, compasses and other forms of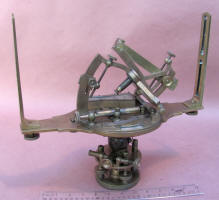 vintage surveying instruments hold a special interest for us. Our focus both in buying and selling these interesting scientific artifacts is primarily focused on antique surveying instruments of American origin. We are especially looking for earlier 18th & 19th century instruments and more unusual forms of early surveying instruments such as solar or mining transits.

Some of the different forms and examples of antique surveying instruments we are interested in are discussed on the Brief Surveying History page. The different types of antique & vintage surveying instruments we primarily deal in, and typically sell are discussed there. Please take a look.

There you will see many types of antique surveying instruments and a brief history of their development. We are always interested in buying or helping you sell similar instruments if you have something of interest. You can look at some of the past sales results of instruments we have sold in the past at our sister site www.AntiqBuyer.com on the Surveying Instrument Past Sales Archive Page
Vintage & Antique
Transits / Theodilites
Solar Transits / Mining Transits & More

* * * Click Heading to see Items * * *
Pre 1880 W. & L. E. Gurley Straight Leg A Frame Surveyor's Vernier Compass w/ Transit / Scope

c. 1900 Gurley #100 Recon Transit w/ Box

Buff & Berger #11 Theodolite / Transit

C. L. Berger & Sons Solar Transit w/ Buff & Berger / Pearson Patent Solar Attachment
Keuffel & Esser #5081 1/2 Engineers Mining Transit w/ Interchangeable Top or Side Mount Secondary Telescope
Heller & Brightly Surveyor / Engineer Transit c. 1915 w/ Tripod
J. C. Sala Transit w/ Solar Attachment Mount
Buff & Buff Mining Transit w/ Auxiliary Scope
1960's Eagle Brand Engineer's Transit
1960's Gurley Aluminum Engineer's Transit
1930's Buff & Buff Engineer's Transit

Buff & Buff Solar Transit w/ Smith Patent Solar Attachment
Antique & Vintage
Compasses / Telescopes / Levels / Alidades & More
* * * Click Heading to see Items * * *
Surveyor's Tools
Plumb Bobs / Chains & Drafting Tools & Related
* * * Click Heading to see Items * * *
Brass and Iron Plumb Bobs
U.S. Clinometer
K&E Tape Repair Kit
K&E #5613 Pocket Compass
Small Ebony Parallel Ruler
D. B. & S. Triangular Rule
Ivory Sector for Navigation
K & E Pantograph in Original Box
Cox Stadia Rules
Dietzgen / Ott Planimeter in Original Box
Map or Plan Measuring Tool
Early Beam Compass in Box
Several Sets of 8 & 10" Proportional Dividers
Tripods / Plane Tables / & More
* * * Click Heading to see Items * * *
Selection of Fixed & Collapsible Leg Tripods
Several Different Johnson Head Plane Table Tripods
Lietz Wooden Jacob Staff
Dietzgen NOS Wooden Jacob Staff
K & E Fixed Leg Tripod for K & E 5114 Convertible Level
Lietz 30 x 24 Plane Table
NOTE: Vintage Surveying Instrument Catalogs by
Gurley, Berger, K & E, Dietzgen, and Others are listed on the Tool Book Page



Here is a link to a site that can help you date your surveying instrument if you are looking for that info.
http://www.surveyhistory.org/how_old_is_my_instrument.htm
MORE INFO ABOUT
Antique & Vintage
Surveying Instruments

Past Sales Info & A Brief History

To see various Vintage surveying instruments by well known makers such as Gurley, Thaxter, Queen, Lietz, Dietzgen, Keuffel & Esser, Buff, Berger, Heller & Brightly and others that I have sold in the recent past, here is a link to the Surveying Instrument Past Sales Archive Page at our sister website www.AntiqBuyer.com picturing and describing many of the antique surveying instruments I have previously sold.

To read a brief history and some general background info on different types of Surveying instruments, please see my A Brief Surveying Instrument History Page at this site.



* * * * We Sell Antiques! * * * *
We want to Help you Sell Your quality Surveying Related Antiques
If you have a single antique, or a collection of antiques to sell please contact us at LCM@patented-antiques.com giving us your PHONE NUMBER and other contact info and we will get back to you ASAP.
To view examples of the types of antiques and collectibles we have previously sold and are always interested in helping you sell please visit our Past Sales Archive Pages at our sister website www.AntiqBuyer.com.

Please see our FAQ page, the Appraisal / Selling Page and the Selling Your Collection Pages for further info.
Thanks!!
Larry & Carole