Scroll down this page for the links to our current listings.
You are at the Internet's premier Antique Pressing & Sad Iron sales page. We sell more rare and desirable Antique Pressing and Sadirons than anyone else in the world!
We offer fresh-to-the market antique irons from iron collections we have been commissioned to sell. We want to make it easy for you to find new additions of irons to add to your collection. We publish "Iron Lists" of 25-50 new offerings as they become available.

Scroll down this page for the links to our current listings.
Customers on our email list will be notified of the date the new offerings will be posted in advance of each upcoming Special List.
We typically send out an email notice 24-48 hours prior to posting a new Iron List, announcing the day and time the next list will be posted. And then we send another email to let you know as soon as the List is posted. We try to vary the times in fairness to subscribers in all time zones to give everyone an equal opportunity.

If you want to be added to the email list to be notified about upcoming iron listings click this link to Contact Us.
Your irons could be listed for sale here too! If you have irons you would like us to help you sell we have room for yours.
Contact Us!
* * * * * * *
SPECIAL
IRON OFFERINGS

* * * * * *

If you want to be notified for the next list Contact Me
* * * * * *

* * * Click Heading to see Items * * *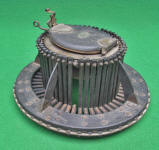 There was an iron for every purpose - - - from an era when everything had to be ironed. Manufacturers produced irons for every trade and every category of clothing. Look here for unusual irons to fit every job---polishing / glossing irons, sleeve irons, hatter's irons, fluting irons, dressmaker's irons, artificial flower making irons, billiard table irons, and more. Through the ages, irons were heated by a variety of different heat sources. In ancient times rocks, used as irons were laid by or in the fire. Next came slugs. As different forms of energy came to market irons changed with the times, from those heated on the woodstove, fired with whale oil, to charcoal fired irons, back to newer liquid fuels like gasoline or kerosene, and finally to electricity. Each type will be represented in the sales page.

In addition to the irons found at this link, we also publish periodic lists of irons to a select mailing list. The link to that page is in the left column or here. If you would like to be added to that list contact us.
Bless & Drake Bentwood Handle Sadiron with Presentation Plaque
Patented 1888 Slug Sadiron with Cast Iron Heat Shield
Pease Combination Charcoal Iron / Fluting Iron
Vin-Max Puff Iron
Otto Natural Gas Iron
Brass Goffering Iron with Poker
Ox-Tongue Iron with Slug
Bentrinfinish Scissors Brand Charcoal Iron
Volcan Liquid Fuel Gas Iron
"Make-Do" Sprinkle Bottle

* * * * * *

We also sell antique irons on eBay. You can check out those irons and our other offerings there by clicking TheAntiqueMerchant.
We want to Help you Sell Your quality Antiques
If you have a single antique, or a collection of antiques to sell please contact us at LCM@patented-antiques.com giving us your PHONE NUMBER and other contact info and we will get back to you ASAP.

To view examples of the types of antiques and collectibles we have previously sold and are always interested in helping you sell please visit our Past Sales Archive Pages at our sister website www.AntiqBuyer.com.

Please see our FAQ page, the Appraisal / Selling Page and the Selling Your Collection Pages for further info.