Antique / Vintage & Collectible
Woodworking Planes
On this page you will find a wide and varied selection of antique woodworking planes and other antique tools that I am selling on consignment from several large and diverse tool collections.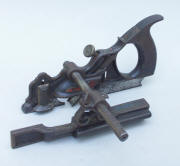 I am gong to be listing for sale various antique and collectible tools from a variety of makers and trades on this page that originate from those different collections of antique tools.

You will find early patented woodworking planes by makers such as Sargent, Millers Falls Tool Co, Winchester, Keen Kutter, Ohio Tool, Union Tool, and many others including wooden planes. Stanley Planes will be found on the Stanley Plane Page.

Some of these companies, Millers Falls Tool Co., Sargent Tool Co., Union Tool Co, Ohio Tool Co. and others, produced quality lines of woodworking planes and other tools to compete with Stanley in the marketplace. Other famous names such as the Simmons Hardware Co. of Saint Louis MO, whose tools were known as Keen Kutter Brand, or Winchester of Gun making fame, were for the most part merely distributors, rarely actually producing any of their own lines of tools. They contracted or jobbed out production orders to Stanley, Sargent, Ohio Tool or other tool makers and then marketed their famous and now very collectible lines of tools depending solely on name recognition, their reputations and the marketing skills of their salesmen and distributors to make a profit and stay in the game. Simmons Hdwe. Co. AKA Keen Kutter did it well, while the Winchester antique tool story was not as pretty. Their foray into the world of tools was pretty short lived, hence the relative scarcity of many Winchester tools except for the reproductions and freshly stamped examples that abound today.


In addition to these well known names there will also be offerings of early Patented Woodworking Planes from obscure and lesser known tool makers who also contributed examples of "better" ideas to the range of vintage collectible tools that are avidly collected and used today.

There will be rare and desirable patented woodworking planes from known and recognized makers including Leonard Bailey as well as a good sampling of quality metal woodworking planes created by various lesser known makers like Steers, Morris, Davis Level & Tool Co. Worrall, Phillips, Standard Rule, and more. These planes are from the era when people like Leonard Bailey and other entrepreneurs and inventors with the spirit of Yankee ingenuity were producing lines of woodworking tools and patented planes during the mid to late 1800's for the American consumer and created some wonderful collectible planes for today's collectors.
Individual titles below that are highlighted in yellow are Select New Additions or Special Gift Ideas. Be sure to take a look!!

Click any of the titles below for the description, price and a couple pictures
* * * Click Heading to see Items * * *
* * * Click Heading to see Items * * *
Sargent began producing and marketing woodworking planes in 1884 even though they had been in business for many years prior to that producing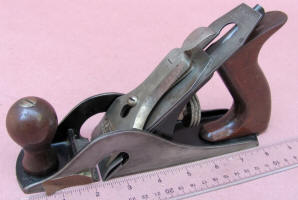 hardware, locks and other metal products. During their early years they produced a line of planes that rivaled Stanley in design, quality and popularity. Later, near the end of their plane production years, (post WWII) they made planes for outfits like Sears / Dunlap and the quality slipped (as did Stanley's) during these later years. Most of the planes offered below date from the 30's or before, during the period that they produced high quality planes for the market that have become popular with both users and tool collectors.
Millers falls came into the woodworking plane marketplace late in the game, but due to their reputation and experience producing other quality tools for many years they had a loyal following. Many of their planes are hard to differentiate from their Stanley counterparts in look or quality, and most are considerably harder to find than the Stanley version. You will not be disappointed with them to use or to collect.

Ohio Tool Co. was a major competitor of Stanley and produced a similar line of metal planes to Stanley as well. They also produced a few unique and rare design planes.

Union Tool co. also produced a line of planes similar to Stanleys before being gobbled up by them. Stanley continued to sell this line of planes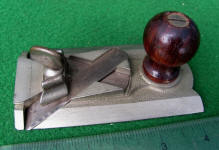 and tools as a second line for a number of years before dropping the name and line altogether.
Sargent #407 Smooth Plane
Sargent # 79 Duplex Rabbet Plane
Sargent # 5307 Block Plane
Sargent 507 Rabbet Block Plane
Sargent Type 2  # 418 Fore Plane
Sargent 422 C VBM / Very Best Made Corrugated Bottom Jointer Plane


Keen Kutter / Simmons Hardware K 5 1/2 C Corrugated Bottom Large Jack Plane (Bedrock 605 1/2 C)
Keen Kutter / Simmons Hardware K 9 3/4 Tailed Block Plane


Millers Falls # 17 Block Plane
Winchester 3092 Block Plane
Winchester Arms Co. No. 3075 Scraper Plane
Winchester 3093 Block Plane


Ohio Tool Co. #0220 Block Plane


#5 C Corrugated Bottom Jack Plane marked "NY Guarantee Warranted to Please or Money Back"
Miniature Brass Instrument Makers Plane
# 75 Hook Scraper
Woodworking Planes have been known since the times of the Pharaohs in Egypt and perhaps before. The antique wooden planes on this page
are mostly American or English with a small sampling from other parts of Europe and Scandinavia.

The history of American made wooden planes begins in New England with such famous names as C. Chelor, I. Nicholson, I. Jones and a host of other 18th century documented wooden plane makers. There has been a lot of research done on early American planes and their makers, and those books are still available and worth a read.

In general wooden planes made after about 1820 or so are considered "late" and the designation "early" is applied only to 18th century planes or those made prior to that date. Mass production of wooden planes by tool companies such as Ohio tool, Sandusky tool, and Auburn Tool Co began after the first quarter of the 19th century and in the mid 1800's. Their production continued to just after the turn of the 20th century when makers/ manufacturers either changed to metal bodied planes or dropped out of the business all together.

In addition to the mega makers of wooden planes, there are hundreds of smaller known and documented plane makers who were producing countless numbers of, and different varieties of wooden planes, for use by trades people. The amount of information available is beyond the scope of this page, but the best book on the subject, which is still in print, is the continuation of Pollack's ground breaking books by Thomas Elliot.

Wooden planes and wood molding planes can encompass a variety of forms and functions. From transitional planes that incorporated wooden bodies and metal fittings to plow planes and molding planes from earlier times.

Finding early planes by known but obscure makers is a challenge today, as the sources have all but dried up and the demand is high. The days of 18th century planes popping up or coming out of a local garage or barn are for all intent or purposes are over. Even nice examples of wooden molding planes by later makers and companies are becoming harder and harder to find. Common profiles, like individual hollows & rounds, or simple rabbets are still readily available and can be bought for 10.00 or less at major tool shows or tool auctions.
* * * Click Heading to see Items * * *
C. E. Chelor Living in Wrentham Molding Plane - 1st Documented Black / African American - Freed Slave Plane Maker
Auburn Tool Co Beech Handled Plow Plane
Winsted Plane Co. Rosewood and Boxwood Handled Plow Plane
Ebony & Boxwood Plow Plane
Rosewood & Boxwood Plow Plane
Ohio Tool Co # 96 1/2 Beech Plow Plane
D. R. Barton / Rochester NY Ivory Tipped Rosewood Plow Plane
Several sets of Plow Plane Cutters
Several Different Examples of Worrall Patent Multiform Planes
Misc Wooden Molding Planes w/ Some Nice Complex Profiles
A. C. Bartlett Ohio Tool Co 3/4 Dado Plane
* * * * We Sell Antiques! * * * *
We want to Help you Sell Your quality Antiques
If you have a single antique, or a collection of antiques to sell please contact us at LCM@patented-antiques.com giving us your PHONE NUMBER and other contact info and we will get back to you ASAP.

To view examples of the types of antiques and collectibles we have previously sold and are always interested in helping you sell please visit our Past Sales Archive Pages at our sister website www.AntiqBuyer.com.

Please see our FAQ page, the Appraisal / Selling Page and the Selling Your Collection Pages for further info.
Thanks!!
Larry & Carole