1906 Patent Model / Salesman Sample
of
Corn Planter
by
Joseph Frame of Missouri
* * * * * * * * * * *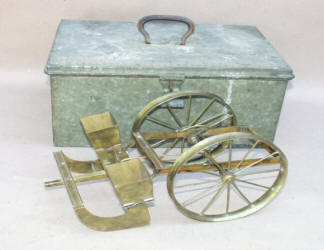 This is an interesting salesman sample / patent model of a corn planter invented by Missouri resident Joseph N. Frame. It was patented in the United States 1906 and he also pulled a ptent for it in Canada. This unique model / salesman sample has been in the same family since that time and is being offered for sale here for the first time

The model is unmarked, but this unusual piece has been handed down through the family and has all the correct provenance, including the original patent papers issued both here in the US and from Canada to Mr. Frame. Here is a link to view the American Patent as recorded at the US Patent Office.

The model measures 12" long, x 7" wide and the wheels are about 6 1/4" dia. which would make it the right size for a patent model. The box is a galvanized tin and it measures 14 x 10 x 8. The model is made almost entirely of brass with soldered joints. There is some fine machine work involved in the ratcheting mechanism to allow this to be turned or backed up when in use. This is possibly the original patent model, or a second model that he made to illustrate the operation for new prospective customers or manufactures. It is known that the Patent office returned models to the owners or their families at one time, if requested, and that could be what happened here.

Mr. Frames idea was very simple and yet effective, perhaps too simple to appeal to the large makers who were by this time in control of much of the corn planter and farm machine market with much more complicated and expensive examples to perform this task. Joes idea was that the main axle would have a kink or bend in it, and that would drive a rod connected to a pivoting piece that would swing back and forth to operate the planter hoppers. There was no transmission to speak of, but he did have it designed to not operate when backing up, and he also provided for the pitman arm to be disconnected to stop the seeding operation altogether when moving it from field to field.

The rest of the story as I was told by the granddaughter is that Mr. Frame made a full size example and was about to begin production and promotion of his idea when a flood swept away the machine and all hope of further development as he ran out of money.

A one of a kind piece of American Farming History that has a great look and appeal both historically and graphically. Americana with a purpose at its finest.


Please mark our auctions to see other antiques and collectibles in the coming weeks, and also visit our website Patented-Antiques.com where additional related antiques from this and other estates can be found. Thanks. Enjoy and Good Luck!!
Click Here to see my other Auctions!

Questions?? Comments!! Suggestions?? Contact Us Directly
Click on any image to enlarge! Please be patient while they download.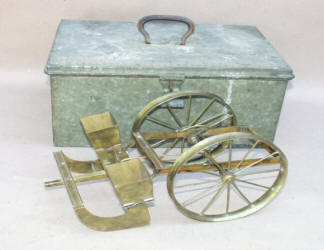 Click on any image to enlarge! Please be patient while they download.
Click HERE to see my other Auctions!
SHIPPING: Shipping cost for this item will be $20.00. I ship UPS for heavy and large items and Priority Mail on lighter items, Fixed rate if more economical. I will combine for multiple purchases. I do not make money packing and shipping, I pack carefully and add just enough to cover materials if needed.
Insurance is optional. You must request it if desired. If you elect to not insure items we will not be responsible for loss or damage in transit.
INTERNATIONAL BUYERS: International buyers are welcome, and encouraged to bid. Payment to be made in American Funds. Please Note: We will not alter customs form values! Do not ask.
NOTE: I do not provide international shipping quotes until auction end. International buyers should calculate Rate Quotes themselves using the US Post Office Website's calculator, estimating the weight. I charge what they charge me and add $2.00 to cover packing and material.
PAYMENT: As per eBay's edict on this matter Paypal is the new preferred method. Contact us directly for alternatives.
SALES TAX: California residents please add 9.5 % sales tax to all purchases unless you supply a tax-exempt number.
OUR CREDENTIALS / RETURNS: Bid with confidence. Our descriptions and our photos are never designed to misrepresent or over-embellish our merchandise. Your satisfaction is guaranteed on all items we sell. We offer a money-back refund minus shipping and handling on your purchase price if you are not satisfied.

Notify us within 72 hours of receipt, and simply return the same item in the same condition as shipped.