The Stanley Rule and Level company was formed in the late 1850's and began their business producing a line of folding rules and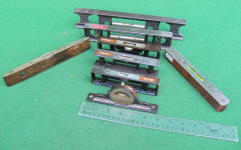 general hardware in New Britain Conn. Levels came next, and a few years later they got into the woodworking plane making business producing a line of metal bodied planes utilizing Leonard Baileys Patents and designs for metal bodied bench planes and scrapers.

The Stanley Rule and Level Company spent a lot of time and effort developing a market and filling the need or demand of early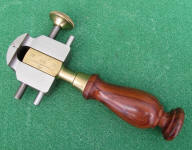 craftspeople wanting top quality tools. Stanley Rule & Level Co. and the tools they made had a great reputation back when. The Stanley name imprinted on a tool was synonymous with quality and high standards for close to 100 years and they dominated the market with their line of fine woodworking planes and other carpentry related tools. Their line of vintage & antique woodworking tools are a favorite with both users and collectors today.

I try to offer vintage tools by Stanley and other vintage makers tools in nice condition, and if there are major detractions I will let you know or the pics will tell the story. Vintage tools by other makers or even those made by Stanley and marketed by other firms will be found both on this page and on other pages on this site. If you are looking for something specific use the search feature found on the right, or ask as I may have it or can point you toward it.
* * * Click Heading to see Items * * *
There is an incredible array of vintage and antique squares and bevels and different forms of marking gauges that have been patented and produced over the years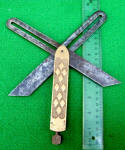 . They were designed for use by many different tradesmen including woodworkers carpenters machinists and more. Many of them have now become highly collectible while others are in demand by users and trades people of today because of the high quality, degree of usability and functionality they provide, and the beauty these fine old collectible tools exhibit.

Some of the antique tools listed below are quite unusual and hard to find. Suitable for use or inclusion the vintage tool collection. Others will be a welcome addition to the workbench for the user / woodworker who appreciates the quality in a fine vintage old tool made in the USA, from a time when we use to actually produce things.
Selection of Antique Carpenters Try & Miter Squares
Disston # 9 Square w/ Bevel
12" Rosewood Handle Carpenter Square
6" Rosewood Handle Try & Mitre Square
Selection of Rosewood Handle Bevels


1st Model Stanley #31 Angle Divider w/ Rosewood Handle
E. W. Moore Patent Pending Roof Framing Bevel / Tool
Howard Patent 8" Rosewood Handle Bevel w/ Level 
Howard 1867 Patent Brass Handle Bevel w/ Level
Fisher Patent Bevel



* * * Click Heading to see Items * * *




A. Stanley & Co. 2' 4 Fold Brass Bound Arch Joint Rule

SOLD!!

Stanley # 60 Double Arch 2' 4 Fold Brass Bound Rule
Stanley # 51 2' 4 Fold Carpenters Rule
Stanley # 36 Caliper Rule
Stanley # 36 1/2 L Caliper Rule
"Sub Grade Rod" #218" by L. A. Batham Oakland Cal.
W. H. Harling 6" Ivory Rule / Protractor for Architects / Navigation
H. Chapin No. 5 1' Four Fold Brassbound Boxwood Carpenters Rule
C. S. Co. 65 1/2 Brassbound 1' 4 Fold Boxwood Carpenters Rule
Lufkin No 771 (84) Brassbound Boxwood Carpenters Rule
Boye "Handy Rule Tool"
Stephens Co. No. 100 6" Boxwood Caliper Rule
Robinson Rule Tool
Henry Green 1891 Patent Level Inclinometer Rule Tool Attachment
AND More



* * * Click Heading to see Items * * *

Stanley # 36 24 Inch Level
2 Stanley # 30 Adjustable Plumb & Level 28" & 30"
Several Stanley # 39 1/2 Cast Iron 6" Machinist Levels
Stanley 24 Inch #15 Nicholson's Patent Level
2 Stanley 14 Inch #13 Nicholson's Patent Level
Stanley 24 Inch #15 Nicholson's Patent Level
Stanley 30" Cherry Plumb & Level



* * * Click Heading to see Items * * *

L. L. Davis Salesman Sample / Display Model 15" #6 Mahogany Level w/ Cutaway
L. L. Davis Mantle Clock Level Inclinometer
Davis Level & Tool Co. 12 Inch Inclinometer Level
Davis Level & Tool Co. 12 Inch Machinist Level
L. L. Davis No. 33  36" 1867 Patent Masons Double Plumb & Level 
M. W. Robinson Co. Davis Patent 24 Inch Cast Iron Level
Davis Level & Tool Co, 24 Inch Cast Iron Level
Davis Level & Tool Co, 18 Inch Cast Iron Level
Davis, Athol Machine, or Standard Tool Co Pedestal Pocket & Square Level
Davis 6" Pedestal Level w/ Vial Sleeve
Davis Level & Tool Co. No. 37 1/2 Pocket Level for Square
Davis Level & Tool Co No. 39 8" Pocket Level
L. L. Davis No. 6  26" 1867 Patent Mahogany Level
L. L. Davis No. 31 30" 1867 Patent Level



* * * Click Heading to see Items * * *

Brass Pocket Level for Square
Williamsburg Mfg. Co. 12 Inch Cast Iron Machinist Level
Fitchburg - Webb Patent 9" Cast Iron Level
C. E. Jennings 12" Cast Iron Machinist Level
Millers Falls 6" Cast Iron Machinist Level
C. E. Jennings Cast Iron Level
Goodell - Pratt 6" Cast Iron Level
Goodell - Pratt 12" Cast Iron Level 
C. F. Richardson Athol Mass 9 Inch Cast Iron Level
4 Inch Cast Iron Pedestal Machinist Level
Starrett No. 130 Cast Iron 3" Bench Level



* * * Click Heading to see Items * * *

Acme Level Co. Wooden Inclinometer Plumb & Level
C. S. Co. Pine Meadow Conn. 28" Cherry Inclinometer - Plumb & Level
Davis & Cook 26" Cherry Wood Level
Mahogany Level w/ External Plumb Vial & Sighting Feature
Dreirer Brothers Pitch Level / Inclinometer
A. V. Shorts Patented 1905 Wooden 4 Vial Plumb & Level
Helb Patent American Combined Level & Grade Finder / Inclinometer
The Beall Tool Co. Inclinometer
Douglas "Five Feature" No. 518 Level
Buckeye Plastic Co. Magno-Level / Inclinometer
Advertising Levels in Pens & Pencils
Devil Level
Hall Level & Mfg. Works Torpedo Level
Eclipse Grade Meter / Level
Starrett No. 135 Pocket Level


* * * Click Heading to see Items * * *

Hot Dog Handle for Stanley # 9 Cabinet Makers Plane
Stanley # 66 Beader
Stanley # 67 Spoke Shave
Stanley # 69 Beading Plane / Scraper w/ 7 Original Cutters
Stanley Millers Patent Iron Wrap Around Fence & 2 Piece Fence Screws
Stanley 84 Boxwood Spoke Shave
Stanley 85 Boxwood Spoke Shave
Stanley # 77 Marking / Mortise Gauge
Stanley # 92 Butt Gage / Marking Gauge
Stanley # 93 Butt Gage / Marking Gauge
Stanley 91 Double Stem Marking Gauge
Stanley # 92 Butt Gage / Marking Gauge
Antique & Vintage edge tools, including carving tools, woodworking chisels, gouges, carpenters slicks, vintage lathe tools and more will be found on this page. The vintage and antique edge tools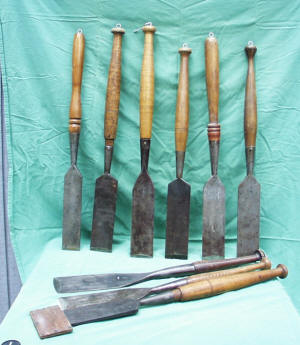 found below will be suitable for use in various woodworking hobbies and trades or inclusion in any antique tool collection.

Antique woodworking edge tools from makers such as Addis, D. R. Barton, James Swan, Herring, Henry Taylor, Buck Brothers, L. & .I.. J. White, Wilkinson, Witherby, Maier, Marples, and others will be found under the proper headings / links below. Stanley Chisels including their famous line of Everlasting or Everlasting chisels and the Stanley #720 & 750 model chisels will be found on the Misc. Stanley Tool Page.

These famous edge tool maker names ring with nostalgia and fond memories of the old days when quality was the standard and American pride of manufacture carried over into the things made here in the USA.

Vintage and antique tools are popular not only because of the superior quality, but often times these antique edge tools can be had in fine condition for a fraction of what is being charged for quality tools made today. There is no comparison in relation to price vs. quality when speaking about the garbage coming here from China sold in every retail establishment no matter the name you see on it.

With a bit of knowledge and judicious shopping you can outfit a toolbox or shop workbench with a array of quality antique & vintage woodworking tools at a reasonable price and get full value for your dollar.
* * * Click Heading to see Items * * *
Slicks are basically large chisels and oftentimes large framing chisels are mis-identified as slicks. In general they can range in width from 2" up 6" or so with those large examples being very hard to find. Most are socket style, but there are also tang slicks that can be found. Occasionally a gouge style slick turns up, and even less often crank neck ones appear. Names like Wilkinson, Barton, L. I. & J. White, Witherby, James Swan and more come to mind as the premier makers of the 19th century.

D. R. Barton 1 1/2 Gouge
Spoke Pointers
1 1/2 " Buck Brothers Crank Neck Paring Chisel
Odd Cast Iron Spoke Shave
Wooden Spoke Shave
Stearns Patented March 5 1878 Adjustable Hollow Auger
1" Buck Brothers Crank Neck Pattern Makers Paring Chisel
Charles Buck  1 1/2" Crank Neck Paring Gouge
Marples 1" Crank Neck Pattern Makers Gouge
* * * Click Heading to see Items * * *
Braces and drills have evolved over time and each have many different styles and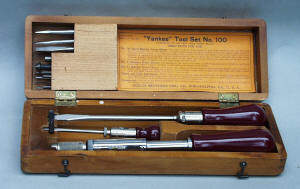 designs to choose from. There is a book on American Patented Braces by Ron Pearson and finding some of the harder ones can be a challenge. They make for a great display once one begins to appreciate the differences and thought that went into the different designs. Others make for great users.
I have seen a few collections of Beam boring machines and they can be very impressive. It seems there are a few common versions around that were mass produced, and then a very few models that were patented and made in very
limited supply. Some with just a few known. The Millers Falls model is the most popular with today's timber framers and users, although outfits like James Swan and a few others made a nice usable product.
2 Seymour Smith No. 2310 10" Bit Braces in Display Box - NOS
Ruger Eggbeater Style Hand Drill
Stanley # 2101A 10" Bell System B Bit Brace
Patented May 25 1886 Davis Bit Brace
* * * Click Heading to see Items * * *
The saws listed should be considered straight. None are kinked or bent so as to be unusable or in need of straightening. Some are sharp, some will need to be re-sharpened.

Disston K-5 Keystone Defender 26" 8 pt. Crosscut Saw
Disston 24 Inch 8 pt. "Handy Hand Saw"
Disston D 95 26" 8 pt. Crosscut Saw
Disston # 7 24 Inch 7 pt. Crosscut Saw


Warranted Superior 26 Inch 8 pt. Saw
Logan & Gregg Sterling Hardware Co., Pittsburgh PA. 26 Inch 5 pt. Rip Saw
24" Bishop  Duplex Combination Dovetail / Back Saw
Davis Level & Tool Co Springfield Mass Hacksaw
Hobbies Patent Deep Throat Fret / Coping Saw
Rare & Unusual Otis Smith Saw Set
* * * Click Heading to see Items * * *
19th Century Antique Carpenters Work Bench
19th Century Antique Carpenters Wooden Tool Box
Boley Leinen Watchmakers Lathe w/ Accessories
Sargent & Co. 1894 Catalog
Starrett # 131 Cast Iron Level Sights in Box
Nestor's Patent Clapboard Gauge
Jaques Patent Direct Read Micrometer
Cast Iron Cut - Out Tool or File Handles / Holders
Small Boat Builders / Shipwright Caulking Mallet
Frictionless Metal Co. Collection
* * * Click Heading to see Items * * *
Jones Salesman Sample Mower
Adriance Platt Salesman Sample Sickle Bar Mowing Machine in Original Box

Salesman Sample Adams Road Grader
B. F. Horton's Patent Improved Salesman Sample Horse Rake & Seeding Machine
Thanks!!
Larry & Carole