Individual titles below that are highlighted in yellow are Select New Additions or Special Gift Ideas. Be sure to take a look!!
Click any of the underlined BLUE HEADINGS below for the description, price and pictures
Antique Coffee Mills / Grinders & Accessories
* * * Click Heading to see Items * * *
Our primary interest is in double wheel #2 or #3 size cast iron mills. These small double wheel coffee mills make for a
very colorful and graphic display in almost any room or setting in the house. They are wonderful pieces and a great reminder of years past. They fit right in with the current craze concerning coffee drinking. If you have not experienced it, there really is a difference between the taste or flavor of coffee ground between plates or burrs as these early grinders have, and coffee which is chopped up with knife blades from the electric things made in China and sold in every retail store across America.

The cosmetic condition of double wheel coffee mills and the condition of the original finish are very important, and we only deal in and offer for sale those in excellent condition with original paint and decals. Original condition coffee mills are becoming very difficult to find and are the ones that seem to draw the most comments and attention when shown off. The refinished coffee grinders that look like new cars coming off the lot are nice in their own right, but not something you will find listed here.
National Specialty Mfg. Co. #2 Size Double Wheel Coffee Mill / Grinder
Charles Parker #3000 Double Wheel Coffee Mill / Grinder
Lander Frary & Clark #20 Double Wheel Coffee Mill / Grinder in Green Finish
Keen Kutter Simmons Hardware Koffee Krusher #12 Coffee Mill / Grinder
Figural Antiques / Toys / Advertising / Country Store & Misc.
* * * Click Heading to see Items * * *
Antique & Vintage
New York City
Flatiron Building Collectibles
* * * Click Heading to see Prices & Items * * *
Patented Americana
Food Related Antiques / Kitchen Primitives
& More
* * * Click Link Below to see Items * * *
The Americana and Country Kitchen antiques and collectibles found on this page cover a broad range both in vintage and uses. We use to deal extensively in Kitchen Antiques and related paraphernalia before branching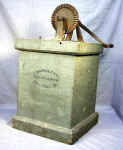 out and dealing in many other kinds of patented and mechanical devices.

Over the years our focus has broadened as the supply of the neat early stuff has all but disappeared from the market. In order to stay relevant we moved the time line up a bit and our interests broadened to include things like patented ice cream scoops, odd can openers, corkscrews as well as vintage or antique electric toasters.

We drew the line at such things as Tupperware, Fire King, and later plastic "Kitchen Chic" which now seem to be the rage and currently popular and active categories of Kitchen collectibles to seek, collect, and use.

* * * Click Link Below to see Items * * *
A Selection of Pie Lifters
A Selection of Pie Pans and Twisted Wire Pie Rack
Antique Twisted Wire Carrier???
Early Heinz Apple Butter Jar w/ Great Label
1st Edition Eggbeater Book by Don Thornton
Thompson Apple Peeler, Corer, & Slicer
".75 Cent" Potato Chip Slicer / Vegetable Ribbon Cutter
Antique Pot Scrubber / Pot Scraper
Antique & Vintage
Wire Clothes Hangers & Clothes Pins
* * * Click Heading to see Prices & Items * * *
Locks / Lighting / Scales & Misc
Related Antiques

* * * Click Heading to see Items * * *
Various Padlocks
PRR Railroad Cast Iron Lock
Early Company Marked Padlock
Several Steelyard Scales
Patented Lamp / Light Holder
Old West & Mining Related Antiques
Antique Mine Lighting
Carbide / Safety / Davy & Oil Wick Lamps & More

* * * Click Heading to see Items * * *
Assortment of Blasting Cap Tins
Wooden Cap Tin Box
Wooden Dynamite Box
Justrite Carbide Miners Lamp w/ Large Reflector
Antique & Vintage Paperweights
* * * Click Heading to see Items * * *
NE Structural Co Advertising Paperweight
1620 Plymouth Rock Paperweight
Grand Army of the Republic Cast Iron Hat / Paperweight
Several Miniature Anvil Paperweights
Antique & Vintage
Small Animal Mouse Rat & Fly Traps
* * * Click Heading to see Items * * *
3 Antique Live Mouse Traps
Unusual Glass Body Fly Trap
Several Mouse and Rat Traps
Jillison Killer Trap
Royal #1 Cast Iron Mouse Trap Patented 1879
Patented Gopher Gun Trap
Antique & Vintage
Corkscrews & Can Openers
* * * Click Heading to see Items * * *
Nifty Corkscrew / Bottle Opener
Several Framed Corkscrew
Patented Lever Action Can Opener
Various Can Openers & Knife Sharpeners
* * * * We Sell Antiques! * * * *
We want to Help you Sell Your quality Antiques
If you have a single antique, or a collection of antiques to sell please contact us at LCM@patented-antiques.com giving us your PHONE NUMBER and other contact info and we will get back to you ASAP.

To view examples of the types of antiques and collectibles we have previously sold and are always interested in helping you sell please visit our Past Sales Archive Pages at our sister website www.AntiqBuyer.com.

Please see our FAQ page, the Appraisal / Selling Page and the Selling Your Collection Pages for further info.
Thanks!!
Larry & Carole