General Store / Country Store Antiques and related Antique Advertising are becoming increasingly more difficult to find. A lot of "stuff" that appears at antiques shows and on the marketplace these days dates from much later than the pre-1900 era good Americana or General Store type antiques with historical significance that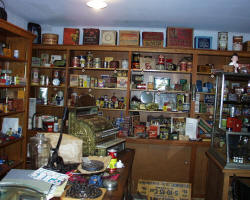 we like to acquire and deal in. This earlier era material is what we try to focus on and offer for sale here.

Much of the stuff that you find offered today is outright fake - - - brand new merchandise offered up with a wink and a nod, or the latest craze, stuff made up from old things and offered as something special, whether it is called Steampunk, assemblages, repurposed, or whatever. Personally I am at a loss for words to describe most of it. It might be art, it might be popular, but it has little to do with authentic original Americana or antiques.

The pieces listed here are just the thing to enhance your country store collection or Americana-related display. Many are great antique advertising pieces, patent models, salesman samples, antique kitchen related pieces, coffee mills, and other antiques that are "real" and authentic, with a look and feel that fit into many decorating and collecting schemes. We strive to offer genuine early American antiques and antique General Store artifacts---true Americana that has a real "Country" look and feel---Americana with a purpose.
Original US Patent Models
* * * Click Headings below to see Items * * *
Antique American Patent Models have a colorful and interesting history. They represent one of the most graphic and rare forms of American ingenuity and inventiveness that is available on the antique market. The requirement that each invention would require a model of the invention was first mandated by the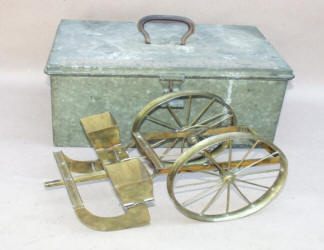 government in 1790. That requirement was essentially dropped in the late 1800's as the volume of models the government was storing became enormous.

Over the years there were two different fires in the government patent model storage locations and many of the earliest patent models were destroyed. These wonderful pieces of Americana were neglected and ignored for years with all of them nearly being sold off for scrap in the 20's at a government auction. They were saved from that fate through the wisdom and foresight of a few devoted and visionary collectors who bought them for their intrinsic value and beauty.

Most patent models available today came from the efforts of either O. Rundle Gilbert or Cliff Peterson, both of whom at one time owned, and marketed the remaining patent models during their period of ownership. There are small stashes of, and collections of models all over the country that were formed when these owners were selling off portions of the original collection to finance their dream.

Currently there is a large collection of parts and pieces of patent models with fake tags being offered for sale on eBay with the spiel that the proceeds are going to some charitable fund or foundation to benefit the "kids", build a museum, or something similar. I expect to see offers for shares in the ownership of the bridge being built to that imaginary place, as in nowhere, as an added bonus when I read those ads.
* * * Click Heading to see Items * * *
1858 Patent Model Door Alarm Lock by Jonathan Wells
Fredrick Toggenburger 1860 Patent Model Sewing Machine
William O. Grover 1863 Patent Model Sewing Machine
J. D. Adams Salesman Sample Road Grader
c. 1900 Salesman Sample Grain / Corn Silo w/ Case
Salesman Sample Automatic Fishing Pole / Fishing Line Alarm
Patented 1898 Salesman Sample Door Hinge
* * * Click Heading to see Items * * *
There was an iron for every purpose - - - from an era when everything had to be ironed. Manufacturers produced irons for every trade and every
category of clothing. Look here for unusual irons to fit every job---polishing / glossing irons, sleeve irons, hatter's irons, fluting irons, dressmaker's irons, artificial flower making irons, billiard table irons, and more. Through the ages, irons were heated by a variety of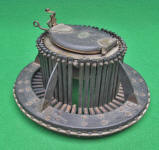 different heat sources. In ancient times rocks, used as irons were laid by or in the fire. Next came slugs. As different forms of energy came to market irons changed with the times, from those heated on the woodstove, fired with whale oil, to charcoal fired irons, back to newer liquid fuels like gasoline or kerosene, and finally to electricity. Each type will be represented in the sales page.

In addition to the irons found at this link, we also publish periodic lists of irons to a select mailing list. The link to that page is in the left column or here. If you would like to be added to that list contact us.
Vici Decorated Enameled Electric Iron
Miniature Brass Goffer Iron w/ Poker
1811 Decorated Brass Slug Iron
Prometheus Revolving Gas Iron
Feldmeyer Patent Alcohol Iron
Ox-Tongue Iron with Slug
Blacklock Sleeve Iron
Davis Gray Speckle Enamel / Graniteware Gas Iron
Zinn's #5 Charcoal Iron with Sled Trivet
Kenrick Round Bottom Polishing Box / Slug Iron
Hood's Patent Soapstone Sadiron
Wooden Dutch Bonnet Roller
Charles Cockshutt & Co. Figural Cast Iron Paperweight
* * * Click Heading to see Items * * *
OOur primary interest in Coffee Mills is in double wheel #2 or #3 size cast iron mills. These small double wheel coffee mills make for a very colorful and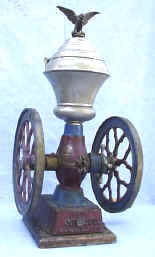 graphic display in almost any room or setting in the house. They are wonderful pieces and a great reminder of years past. They fit right in with the current craze concerning coffee drinking. If you have not experienced it, there really is a difference between the taste or flavor of coffee ground between plates or burrs as these early grinders have, and coffee which is chopped up with knife blades from the electric things made in China and sold in every retail store across America.

The cosmetic condition of double wheel coffee mills and the condition of the original finish are very important, and we only deal in and offer for sale those in excellent condition with original paint and decals. Original condition coffee mills are becoming very difficult to find and are the ones that seem to draw the most comments and attention when shown off. The Americana General Store & Country Kitchen antiques and collectibles found on this page cover a broad range both in vintage and uses. Over the years our focus has broadened as the supply of the neat early stuff has all but disappeared from the market. In order to stay relevant our interests broadened to include things like patented ice cream scoops, odd can openers, corkscrews, as well as vintage or antique electric toasters.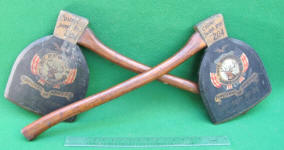 "Cyclone" Antique Electric Vacuum Cleaner / Bradford PA
Silver Plate Cocktail Shaker in the form of a Bell
Carved and Decorated Scandinavian Mangle / Smoothing Board
Selection of Lamp Fillers
Thorens AD - 30 Music Box & 48 Music Discs
Royal #1 Cast Iron Mouse Trap Patented 1879
* * * * We Sell Antiques! * * * *
We want to Help you Sell Your quality Antiques
IIf you have a single antique, or a collection of antiques to sell please contact us at LCM@patented-antiques.com giving us your PHONE NUMBER and other contact info and we will get back to you ASAP.

To view examples of the types of antiques and collectibles we have previously sold and are always interested in helping you sell please visit our Past Sales Archive Pages at our sister website www.AntiqBuyer.com.

Please see our FAQ page, the Appraisal / Selling Page and the Selling Your Collection Pages for further info.
Thanks!!
Larry & Carole