General Store / Country Store Antiques and related Antique Advertising are becoming
increasingly more difficult to find as time passes. A lot of "stuff" that appears at antiques shows and on the marketplace these days dates from much later than the early or pre-1900 era that good Americana or General Store type antiques with historical significance have. This era material is what we try to focus on and offer for sale here. Much of the stuff offered today is outright fakes - - - brand new merchandise offered up with a wink and a nod, or the latest craze, stuff made up from old things and offered as something special whether it is called Steampunk, assemblages, or whatever.- - - - personally I am at a loss for words to describe most of it. It might be art, it might be popular, but it has little to do with authentic Americana or antiques.

The pieces listed here are just the thing to enhance your country store collection or Americana related display. Many are great antique advertising pieces, Patent Models, salesman samples, antique kitchen related pieces, coffee mills, and other antiques that are "real" and have an authentic look and feel that fit into many decorating and collecting schemes. We strive to offer genuine early American antiques and antique General Store artifacts---true Americana that has a real "Country" look and feel.
* * * Click Headings below to see Items * * *
Antique American Patent Models have a colorful and interesting history, and represent one of the most graphic and rare forms of American ingenuity and inventiveness that is available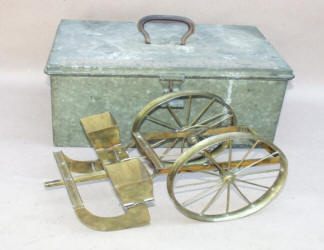 on the antique market. The requirement that each invention would require a model of the invention was first mandated by the government in 1790. That requirement was essentially dropped in the late 1800's as the volume of models the government was storing became enormous.

Over the years there were 2 different fires in the patent model storage locations and many of the earliest patent models were destroyed. These wonderful pieces of Americana were neglected and ignored for years with all of them nearly being sold off for scrap in the 20's. They were saved from that fate through the wisdom and foresight of a few devoted and visionary collectors who bought them for their intrinsic value and beauty.

Most patent models available today came from the efforts of either O. Rundle Gilbert or Cliff Peterson, both of whom at one time owned, and were marketing the remaining patent models during their period of ownership. There are small stashes of, and collections of models, all over
the country that were formed when these and other different owners were selling off portions of the original collection to finance their dream.

A few years ago there were hundreds available for sale at the major antique shows on the East Coast. Currently there is a large collection of parts and pieces of patent models being offered for sale on eBay with the spiel that the proceeds are going to some charitable fund or foundation to benefit the "kids". When I read those ads I expect to see offers for shares in the ownership of the bridge being built to it, as in nowhere, as an added bonus.
US Patent Models / Salesman Samples
* * * Click Heading to see Items * * *
1879 Patent Model of Whirligig / Roundabout 
McLean & Bennor 1873 Patent Model Sewing Machine
Fredrick Toggenburger 1860 Patent Model Sewing Machine
William O. Grover 1863 Patent Model Sewing Machine
Thomas J. Halligan 1863 Patent Model Sewing Machine
1870 Patent Model of Revolving Cannon like Early Machine Gun or Gatling Gun
1877 Patent Model of Washing Machine by George Buchanan of Washington, PA
1878 Patent Model Wash Boiler w/ Built in Agitator
Antique & Vintage
Salesman Samples / Display Models
& Childs Size Cast Iron Toy Stoves
* * * Click Each Page # to see Stoves * * *
Antique Coffee Mills / Grinders & Accessories
* * * Click Heading to see Items * * *
Our primary interest is in double wheel #2 or #3 size cast iron mills. These small double wheel coffee mills make for a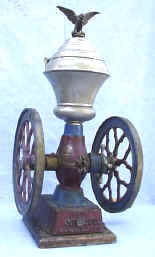 very colorful and graphic display in almost any room or setting in the house. They are wonderful pieces and a great reminder of years past. They fit right in with the current craze concerning coffee drinking. If you have not experienced it, there really is a difference between the taste or flavor of coffee ground between plates or burrs as these early grinders have, and coffee which is chopped up with knife blades from the electric things made in China and sold in every retail store across America.

The cosmetic condition of double wheel coffee mills and the condition of the original finish are very important, and we only deal in and offer for sale those in excellent condition with original paint and decals. Original condition coffee mills are becoming very difficult to find and are the ones that seem to draw the most comments and attention when shown off. The refinished coffee grinders that look like new cars coming off the lot are nice in their own right, but not something you will find listed here.
Golden Rule Wall Mount Coffee Grinder
Grand Union Wall Mount Litho Advertising Coffee Grinder / Mill
Bouquet Tin Litho Wall Mount Advertising Coffee Grinder / Mill
Figural Antiques / Cast Iron / Toys / Advertising
/ Country Store & Misc.
* * * Click Heading to see Items * * *
The Americana General Store & Country Kitchen antiques and collectibles found on this page cover a broad range both in vintage and uses. We use to deal extensively in Kitchen Antiques and related paraphernalia before branching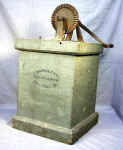 out and dealing in many other kinds of patented and mechanical devices.

Over the years our focus has broadened as the supply of the neat early stuff has all but disappeared from the market. In order to stay relevant we moved the time line up a bit and our interests broadened to include things like patented ice cream scoops, odd can openers, corkscrews as well as vintage or antique electric toasters.

We drew the line at such things as Tupperware, Fire King, and later plastic "Kitchen Chic" which now seem to be the rage and currently popular and active categories of Kitchen collectibles to seek, collect, and use.
Antique & Vintage Mining
Candlesticks / Carbide Lights / Oilwicks & Other Lighting
* * * Click Heading to see Prices & Items * * *
Antique & Vintage
Anvil Advertising Paperweights & Corkscrews
* * * Click Heading to see Items * * *
A selection of Corkscrews
William G. Fischer "Grand Active" Cin. O. USA Miniature Advertising Anvil / Salesman Sample / Paperweight
"C. P. Green 1891 X" Cast Brass Miniature Anvil Paperweight
"C.H. Benton" Miniature Advertising Anvil / Salesman Sample / Paperweight
1776 / 1876 Miniature Centennial Commemorative Anvil Paperweight
F. M. Russell Omaha Gas & Electric Fixtures Miniature Advertising Anvil / Salesman Sample / Paperweight
Cast Brass Miniature Advertising Anvil / Salesman Sample / Paperweight
Adam Wagner Cast Iron Miniature Advertising Anvil / Salesman Sample / Paperweight
"Hugo Hackenberg Dortmund" Miniature Cast Iron Advertising Anvil / Salesman Sample / Paperweight
"Cristobal Colon / Sunk July 3rd 1898" Miniature Cast Brass Commemorative Advertising Anvil / Paperweight
"USE Bradley's Top Props / New Haven Slat Irons" Miniature Cast Iron Advertising Anvil / Paperweight
Antique & Vintage
Small Animal Mouse Rat & Fly Traps
* * * Click Heading to see Items * * *
Unusual Glass Body Fly Trap
Royal #1 Cast Iron Mouse Trap Patented 1879
Dr. Hodge Fly Trap
National Fly Trap
U - Neek Mouse Trap

SOLD!

Primitive Wooden Base Rat Trap
* * * * We Sell Antiques! * * * *
We want to Help you Sell Your quality Antiques
If you have a single antique, or a collection of antiques to sell please contact us at LCM@patented-antiques.com giving us your PHONE NUMBER and other contact info and we will get back to you ASAP.

To view examples of the types of antiques and collectibles we have previously sold and are always interested in helping you sell please visit our Past Sales Archive Pages at our sister website www.AntiqBuyer.com.

Please see our FAQ page, the Appraisal / Selling Page and the Selling Your Collection Pages for further info.
Thanks!!
Larry & Carole