HOME
* * * * *
Site Search

* * * * *
Selling Your
Antiques:

Consigning
Antiques

Selling Collections

Wanted to Buy

* * * * *
Antiques
For Sale
* * * * *

Antique
Tools:

Stanley Planes

Patented
Metal Planes &
Wooden Planes

Misc. Tools
Levels / Bevels
Squares / Rules
Farm & More

Chisels / Slicks
Saws & Drills

Antique
Sewing
Machines:

Singer 221-222
Featherweight
Sewing Machines

"Antique"
Sewing Machine
Value Info

Antique
Surveying
Instruments:

Solar / Mining
Transits
Compasses
Levels
Accessories

Antique
Sad Irons:

Pressing &
Sad Iron
Listings

Americana /
Technology
& Scientific
Antiques:

Advertising
Antique Images
General Line
Patent Models
Salesman Samples
Sewing Machines
Country Store
Fans / Motors
Calculation
& More

* * * * *
General Info:

Ordering Info &
Guarantee

FAQ

About Us

Links

* * * * *
Contact Us

* * * * *
Americana
Scientific - Technology & Tool
Related Antiques
Genuine Antiques are becoming increasingly difficult to find. A lot of "stuff" that appears at antiques shows and on the marketplace these days dates from much later than the pre-1900 era good Antiques and Americana with historical significance that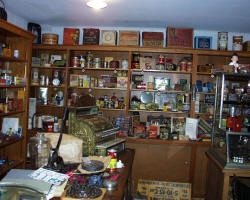 we like to acquire and to deal in.

Much of the stuff that you find offered today is outright fake - - - brand new merchandise offered up with a wink and a nod, or the latest craze, stuff made up from old things and offered as something special, whether it is called Steampunk, assemblages, repurposed, or whatever. Personally I am at a loss for words to describe most of it. It might be art, it might be popular, but it has little to do with authentic antiques or original Americana.
Original US Patent Models
* * * Click Headings below to see Items * * *
Antique American Patent Models have a colorful and interesting history. Patent Models represent one of the most graphic and rare forms of American ingenuity and inventiveness that is available on the antique market. The requirement that each invention would require a model of the invention was first mandated by the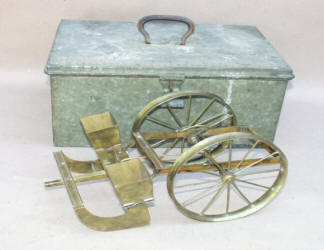 government in 1790. That requirement was essentially dropped in the late 1800's as the volume of models the government was storing became enormous.

Over the years there were two different fires in the government patent model storage locations and many of the earliest patent models were destroyed. These wonderful pieces of Americana were neglected and ignored for years with all of them nearly being sold off for scrap in the 20's at a government auction. They were saved from that fate through the wisdom and foresight of a few devoted and visionary collectors who bought them for their intrinsic value and beauty.

Most patent models available today came from the efforts of either O. Rundle Gilbert or Cliff Peterson, both of whom at one time owned, and marketed the remaining patent models during their period of ownership. There are small stashes of, and collections of models all over the country that were formed when these owners were selling off portions of the original collection to finance their dreams.

Currently there is a large collection of parts and pieces of patent models with fake tags being offered for sale on eBay with the spiel that the proceeds are going to some charitable fund or foundation to benefit the "kids", build a museum, bridge, or something similar. I expect to see offers for shares in the ownership of the bridge being built to that imaginary place, as in nowhere, as an added bonus when I read those ads.
* * * Click Heading to see Items * * *
Jones Salesman Sample Sickle Bar Mowing Machine
William O. Grover 1863 Patent Model Sewing Machine
J. D. Adams Salesman Sample Road Grader
c. 1900 Salesman Sample Grain / Corn Silo w/ Case
1858 James McVicker Patent Model Washing Machine based on a Wheelbarrow Design
1807 T. Beatty Patent Model Washing / Churning Machine
1873 Patent Model of Telegraph Apparatus by George Little
Adriance Platt Salesman Sample Sickle Bar Mowing Machine in Original Box
B. F. Horton's Patent Improved Salesman Sample Horse Rake & Seeding Machine
c. 1918 Salesman Sample Combination Tractor Plow in Original Box w/ Sales Brochure
Americana
Figural Antiques / Cast Iron / Advertising
Coffee Grinders / Toys / Country / General Store & Misc.
The Americana General Store & Country Kitchen antiques and collectibles found on this page cover a broad range both in vintage and uses. Over the years our focus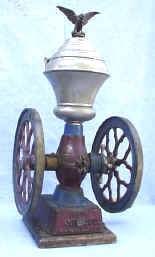 has broadened as the supply of the neat early stuff has all but disappeared from the market. In order to stay relevant our interests broadened to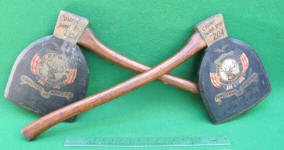 include things like patented ice cream scoops, odd can openers, corkscrews, as well as vintage or antique electric toasters.

Our primary interest in Coffee Mills is in double wheel #2 or #3 size cast iron mills. These small double wheel coffee mills make for a very colorful and graphic display in almost any room or setting in the house. They are wonderful pieces and a great reminder of years past. They fit right in with the current craze concerning coffee drinking.

* * * Click Heading to see Items * * *
1919 DuPont Explosives Perpetual Advertising Calendar
Knight Foundry - Sutter Creek Cal Mortar & Pestle
Braun Mortar & Pestle
1880's-1900's Era Medical Doctor's Binaural Stethoscope
J. A. Hill Spiral Egg Grader / 3 Station Egg Scale
Silver Plate Cocktail Shaker in the form of a Bell
Selection of Lamp Fillers
Royal #1 Cast Iron Mouse Trap Patented 1879
German Mechanical Corkscrew Gambrinus DRGM No 137,497
Stickley Bros Co. Arts & Crafts Mission Style Oak Tabouret / Plant Stand / End Table / Stool
Twisted Wire Handle for Cane, Tool or Other
1920's Henley Roll About Scooter / Skate Board / Childs Wagon
Early Patented Sewing Machines / TSM's & More
We try to have a good selection of patented sewing machines as well as various harder to find early TSM's or Toy Sewing Machines. We have become much more selective in our old age
because of the changing times and market.

We always have a good selection of Singer Featherweight Model 221 Sewing Machines listed for sale on their own page. Simply click the link. These wonderful machines are the machine of choice for, and a favorite with today's quilters and crafters.

The invention of the sewing machine in the mid-19th century played an important role in the Industrial Revolution and Americas growth. Elias Howe Jr. is one of the most commonly heard names associated with the invention and patents for early sewing machines. He was granted some of the earliest patents but died penniless and endured the humiliation of seeing others profit from his ideas. Isaac Merrit Singer on the other hand was a brilliant salesman as well as inventor, and he saw financial success because he was simply a shrewder businessman than most of his other sewing machine inventor counterparts.

Other names tied to sewing machine development, patents for sewing machines, and their invention include Allen Benjamin Wilson, Thomas Saint, Newton
Wilson, and Barthelemy Thimonnier. In the end, while there is debate about who should be given credit for designing the first mechanized means of stitching together two pieces of fabric, there is no debate that these early antique sewing machines revolutionized daily household life in America and the rest of the world.

During the late 1800's and early 1900's young girls were expected to learn to sew at an early age, and small portable hand crank sewing machines that could be used by youngsters were also widely marketed toward adults to use at home for mending as well as while traveling or vacationing. Many just did a simple chain stitch, if you could get it to work, and were of dubious worth as real sewing machines. But that did not keep the manufacturers from touting their usefulness in search of widening the market. Machines by Smith & Egge with names like
Peerless, Little Comfort, Midget, and others fall into this type.

Singer toy sewing machines are often mistakenly identified as salesman samples. The truth is that they were made and marketed as toys. Singer realized the importance of marketing their products and their name to young girls and many full-size Singer sewing machines were undoubtedly sold to young ladies who fondly remembered the toy sewing machine that years earlier they had first learned to sew on.
* * * Click Heading to see Items * * *
Hancock Patent TSM / Toy Sewing Machine
Pratt Patent "Ladies Companion" Patented 1857 Sewing Machine
William O. Grover 1863 Patent Model Sewing Machine
Foley & Williams Midget Toy Sewing Machine / TSM in Unusual Copper Flash Finish
Antique Photo of a Child with a Toy Sewing Machine

Toy & Miniature Sewing Machines

Vol. 1 by Glenda Thomas

F.W. Muller's Toy Sewing Machines and the "Kerngehause"

by Hannes Kowatsch and Manfred and Rita Koym

Encyclopedia Of Needlework

by Th. de Dillmont
The technology related antiques we deal in for the most part date from near the turn of the 20th century or earlier. That is 1900 or earlier. This includes office related devices & tools such as early patented antique pencil sharpeners, antique typewriters,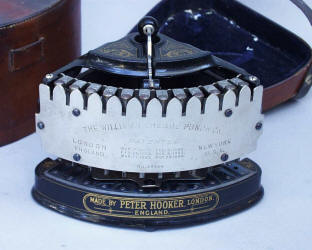 early punch style check protectors, early calculation devices such as adders, calculators, slide rules, etc. We also deal in many early electrical devices such as antique electric fans, telegraph keys, and other early technology related office collectibles.

Thing is, today everyone wants to sell their 1950's - 1980's era obsolete office stuff for big bucks because of the stories they have heard, or TV shows they have seen. They saw the $600,000.00 result for an Apple 1 computer and think that makes their 1950 Burroughs adding machine worth at least 1/2 as much. The logig goes if some 1890's typewriter sells for 10K their "old" and "antique" 1950's typewriter or adding machine must be valuable. Actual rarity, or condition are hardly considered. While that logic might hold true for some first generation computers and electronic calculators, for the most part office equipment from the 20's through the 60's is not in demand, desirable, or worth much at all.

The supply of good early (pre 1900) office and scientific related antiques has now for all intent and purposes disappeared from the market or scene and the supply has about dried up. It is that era stuff that I am looking for today. I will buy it outright, or can help you sell it.
If you have a single antique or an entire collection of office and technology related antiques for sale that you think we may be interested in, please contact us at LCM@patented-antiques.com and we will get back to you ASAP. Thanks!!
Antique electric fans offer a glimpse into the quality and pride that went into the manufacture of products in this country during an earlier period of America's history. I still use a an early GE Pancake fan and a Westinghouse "Tank" fan, as well
as an early electric Emerson fan around the house. The way they work and look is a tribute to an earlier time. A sense of pride was built into American made products and these 75-100 year old fans are a great example of the way things use to be. It is no wonder these early testaments to quality and design stir collecting interest, or that they elicit positive comments from all who see them. Their operation and their their look have an air of quality about them not seen in today's products.

Early fans came in all sizes and shapes. Some examples of antique fans I have sold in recent years can be found on this fan sales archive page at our sister website www.AntiqBuyer.com. In addition to electrically powered AC, DC, or battery powered fans, there are hot air fans, water powered fans and more.. I deal in, and sell all of these different early versions of vintage fans.

Most small or toy vintage electric motors resemble early larger antique steam and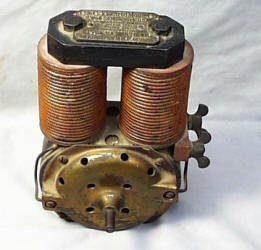 electric motors from the same time period or era and are open framed and or bi-polar in design. Many of the electric motors that came with erector sets or with toy steam engines like Weeden and Bing are similar looking but there are earlier and more elaborate models that were used as demonstrators in classes or labs as well. Others were sold in Novelty catalogs as working motors for small jobs. In addition to electric motors there are also hot air models known as "flame lickers", and the steam driven motors / generators meant to be set up with boilers by such makers as Bing, Jensen, Plank and others.

Names like Edison, Westinghouse, Tesla and a few others come to mind when considering the introduction of electrical technology into our society. These inventors and others were the driving force that led America into a new age of power and their early efforts and designs are both important and an interesting facet of our history and a reminder of what it used to be like.
* * * Click Heading to see Items * * *
3 Thomas Edison Reproduction Light Bulbs
Thomas Edison Battery Jar
Robbins & Myers 16" Feather Vane Oscillator Electric Desk Fan
Emerson Electric Mfg. Co. Model # 29646 12"  Electric Desk Fan
Emerson 24668 16" Oscillating Electric Desk Fan
Carlisle - Finch Water Powered 12 Volt Electric Bipolar Dynamo / Motor
Antique Bi Polar / Open Frame Electric Motor / Dynamo 
Franklin / Edison Bipolar Mini Toy Electric Motor / Dynamo
"Ultimate Portable Pocket Bug" Telegraph Key
Bunnell & Co. Telegraph Sounder w/ Resonator Box on White Folding Stand
Atwater Kent Breadboard Radio
Kennedy Coronet #42 Table Top Tube Radio
Philco #70 Table Top Tube Radio
Atwater / Kent F-2 Siren Speaker
Early GE / General Electric 3 Blub Heater
Dim-A-Lite Patented Electric Lamp Dimmer Socket / Rheostat
RCA # 143 Superhetrodyne 8 Tube Tombstone Radio
1873 Patent Model of Telegraph Apparatus by George Little
Electric Machinery Co. of Minneapolis Minn. 1.5 kw Electric Motor / Dynamo
Crocker Wheeler 3 HP Electric Motor
Walsco No. 500 Staple Driver
* * * Click Page Title Above to see Items * * *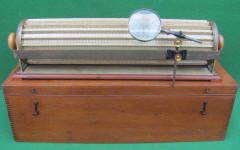 Type II Curta Calculator with metal Case
K & E / Keuffel & Esser 4012 Thacher Slide Rule
K & E / Keuffel & Esser 4088-2 Slide Rule
Keuffel & Esser / K & E 4095 Merchants Slide Rule
K & E / Keuffel & Esser 4088-2SM Slide Rule
Keuffel & Esser / K & E 4160 S Chemists Slide Rule w/ Leather Case & Box
Keuffel & Esser / K & E 68-1100 Deci-Lon Slide Rule w/ Leather Case
Fuller's Spiral Slide Rule / Calculator
Pickett #1010 Slide Rule
Sun Hemmi # 2690 Stadia Slide Rule
Richardson c. 1909 Metal Slide Rule
Nestler 0123 6" Slide Rule
Thornton PIC 144 Electrical Slide Rule
Dieterich Post 3060P Slide Rule
Castell 63/22 Addiator Slide Rule

Lutz 252 Slide Rule
Pickett #520-T Air Force Photography Slide Rule

Pickett Model 14 Military Slide Rule
Charvoz Aristo 971 Hyperbolic Slide Rule
Post 1491 Chemist Slide Rule 
And More
1/9 Plate Daguerreotype of Young Mark Twain / Samuel Clemmons
1/4 Plate Daguerreotype of John Hamilton Still - San Francisco's First Bookshop Owner- Early California Gold Rush Era Image w/ Historical Significance
1/6 Plate Daguerreotype of Lady in Gold Jewelry
1/6 Plate Daguerreotype of Bearded Gent
1/6 Plate Daguerreotype of Bearded Wolfman
1/6 Plate Daguerreotype of Girl & Woman
1/6 Plate Daguerreotype of America Woman
1/6 Plate Daguerreotype of Woman Holding Dag
1/6 Plate Daguerreotype of Jennifer Taft in 1847
1/6 Plate Daguerreotype of Stately Woman
1/6 Plate Daguerreotype of Young Abe Look-a-Like
1/4 Plate Daguerreotype of The Freckles Family
1/4 Plate Daguerreotype The Face
1/6 Plate Daguerreotype of Girl w/ Book or Dag in Extra Thick MOP Decorated Case
1/6 Plate Daguerreotype of "Framed Face"
1/6 Plate Daguerreotype of Scholar - Teacher - Historian - Lawyer
1/6 Plate Daguerreotype of The Troupe or Gathering
Tintype of Poker / Card Playing Women
Tintype Reflections in a Mirrored Room
Tintype Women in Dark Glasses
Tintype Female Banjo Players
Man with Fiddle Tintype
Guitar Player Tintype
Satirical Tintype of Top Hatted Politician, or ?
Salesman w/ Sample or Wares Tintype
Occupational Fly Fishing? Tintype
1/6 Plate Tintype of 4 Siblings
1/6 Plate Tintype of Nice Family
1/6 Plate Ambrotype of Uncle Edward Goodwin of New Hampshire w/ Pistol & Bowie Knife
Unusual Ambrotype of Painting of Grandma
1/6 Plate Ambrotype Grandma in a Wheelchair
1/2 Plate Ambrotype Fatherless Family
1/4 Plate Mason Wearing Masonic Apron
1/6 Plate Ambrotype New Hampshire Civil War Soldier
Cabinet Card Major Atom Midget - Dwarf Eisenmann
Queen Midget The German Rose Age 16 Years Height 33 Inches Weight 38 lbs Eisenmann Cabinet Card
Archie Brown Cop Policeman Midget / Dwarf Cabinet Card
3 Midgets / Dwarfs Cabinet Card Eisenmann Cabinet Card
W. F. Cody - Buffalo Bill Cody Cabinet Card by Stacy
Tattoo Man Cabinet Card Eisenmann Cabinet Card
Norah Hildebrandt Tattoo Lady Cabinet Card
George Karlavagn Tattoo Man Circus Cabinet Card
George Cardoza Tattoo Man Circus Cabinet Card
Prouty Brattleboro VT Advertising Cabinet Card
Storer College African American Quartet Cabinet Card
Greeley Artic Expedition Survivors Cabinet Card
Virginia City NV Noe Cabinet Card of Fiddle / Violin Player
More Listed
More to come
E. & H. T. Anthony War Views #2060  "Soldiers and Part of a Battery on the Battlefield of Bull Run."
E. & H. T. Anthony War Views #2384  "Position of the Centre of the Army of Gettysburg" 
# 768 Monitors Charlestown Navy Yard by Kilburn Brothers
# 2963 The Old Capitol Prison E. & H. T. Anthony
# 359 Ruins of North Eastern Depot Blown up During Evacuation of Charleston (about 300 lives lost)
# 1268  . . . . . .First Shot into Charleston S.C.
# 316 Rebel Shot Lodged in Union Gun at the Battle of Gettysburg Kilburn Brothers
# 736 From the Battlefield Observatory - Soldiers Nat. Cemetery
# 3138 E. & H. T. Anthony The War for the Union
E. & H. T. Anthony # 3223 Interior View of the Rebel Works
E. & H. T. Anthony # 2507 Wounded at Fredericksburg Va.
E. & H. T. Anthony # 3198 Rebel Prisoners Captured by General Sherman
E. & H. T. Anthony # 3347 View of Rebel Fort Darling Richmond Va.
E. & H. T. Anthony # 2565 View of Rebel Fort Burnham / Fort Harrison
E. & H. T. Anthony # 3187 Trenches of Rebel Fort Mahone
E. & H. T. Anthony # 3182 Southern Soldiers Killed in the Trenches of Rebel Fort Mahone
E. & H. T. Anthony # 3190 A Dead Southern Soldier as he lay in the Trenches of Rebel Fort Mahone
General Lee's Residence Richmond Va.  by Anderson
"Old Abe" the Live Wisconsin War Eagle
"Lady" Railroad Locomotive / Engine in Parade Setting
Billerica & Bedford Railroad
Walker Blondin Tight Rope Crossing Niagara Falls
Concord NH Prison Cells
Los Angeles, California 
# 1720 Georgetown by W. H. Jackson & Co. Denver Colorado
Manitou and Vicinity # 104 Colorado Springs and Pikes Peak  by J Thurlow
# 286 Artists Camp  by W. G. Chamberlain
# 376 Opera House Colorado Springs
# 58 Lead SD from Reservoir  by W. R. Cross.
# 62 Oto Grantz - Rich Gold Mine Lead S. D.  by W. R. Cross. 
# 57 Homestake Gold Mine Lead S. D. by W. R. Cross.
# 163 Signal Station Pikes Peak Opera House Colorado Springs  by W. G. Chamberlain
# 332 View from Harpers Ferry  by Kilburn NH
Shaker Schoolroom
Shaker Elders
Gymnasium, Tilden Ladies Seminary W. Lebanon N. H.
Dining Room, Tilden Ladies Seminary W. Lebanon N. H.
Two Shaker Women
Shaker Children ? / Bible Study Class 
6 Views of Mexico
Young Chippewa Brave  by Zimmerman
Red River Cart and Half Breeds # 3214  by Ingersoll
8014 Dismantled Towers & Turrets Broken
# 200 The Pueblos of Taos  by Gurnsey. Taos, NM
# 202 Pueblo Indian Cart Plow & Oven  by Gurnsey
# 2706 "Estufa in Taos" / Los Pueblos De Taos  by W. H. Jackson
324 Shoshone Indians   by Watkins - Pacific Railroad
Alexandria Minn.   Chippewa Indians by N. J. Trenham
Street View in Corinne Utah By Wm. H. Jackson Omaha Neb.
Crow Indian Warriors  American Series
# 71 Indians of the Colorado Valley "The Old Gamblers" by Hillers
# 129 Ute Indian Chiefs - Warency, Chavano, Ancatosh, Ouray, Guerro  by Thurlow
Apache Scouts - Arizona Series by Buehman & Co. Tucson AZ
Indians of the Colorado Valley Wu-Nav-Ai Gathering Seeds #53 by Hillers
Indians of the Colorado Valley # 14 Group of Women in Full Dress  by Hillers
#20 One Little Two Little Three Little Injuns - Indians of the Colorado Valley - by Hillers
#70 Two Old Boys Indians of the Colorado Valley  by Hillers
* * * * We Sell Antiques! * * * *
We want to Help you Sell Your quality Antiques
If you have a single antique, or a collection of antiques to sell please contact us at LCM@patented-antiques.com giving us your PHONE NUMBER and other contact info and we will get back to you ASAP.

To view examples of the types of antiques and collectibles we have previously sold and are always interested in helping you sell please visit our Past Sales Archive Pages at our sister website www.AntiqBuyer.com.

Please see our FAQ page, the Appraisal / Selling Page and the Selling Your Collection Pages for further info.
Thanks!!
Larry & Carole